Morning everyone. Julia here as challenge host to bring you our new challenge for September.
Before we get to the new challenge, it is my absolute pleasure to introduce you to our latest DT member. She's the flower girl extraordinaire. the mistress of the scrapbook page and so much more on top of that:
Please welcome the wonderfully talented Jennie Atkinson from Live The Dream!
So looking forward to working with this creative lady again.
Now, let's hear some information about our new challenge: firstly, we are generously sponsored this month by Creative Embellishments:
For one lucky randomly generated winner, Creative Embellishments are providing a $25 voucher which can be used to make purchases in their wonderful online web shop. Wow!
So, what would we like you to do this month? We'd like you to be inspired by:
I love the colours of autumn. Those beautifully dramatic reds, golds, yellows, browns, greens and all shades in between. Your challenge this month is to take some inspiration from the colours in the image provided and make an autumnal inspired project.
Here's what the design team have made for your inspiration:
I am always captivated by the trees as they change colour during autumn. The colours are so vivid and striking, it's hard to believe they are slowly fading and disappearing ready for winter. I've transferred some stamped and coloured leaf images onto fabric and decorated a mirror.
********************

Autumn is such a beautiful season - I was spoilt for choice as to what to do!
Eventually I decided that crackled leaves and patina rust would be a joy to make -
So much so that I found it hard to stop!
********************
Autumn leaves... with still the bright sun of September
********************

I decided to create a rustic wire figure this month... she is playing amongst the autumn leaves!
********************
My Shades of Autumn project is one that is still in progress- I'm creating garlands of Autumn leaves that will decorate a display table.
********************

A friend needed a special gift box for a special occasion in Paris.
He travels with his girlfriend to one of the beautiful bridges in October.
Do you know what the two plan???
It's a little wooden box in mixed media style and I used a transfer technique in combination with spray inks in brown tones and stencils (fallen chestnut leaves). I think it's masculine and autumnal too.
********************
Taking colour inspiration from the rich fall palette - I used regular items from what is normally my paper crafting toolbox as soap crafting implements for some soap crafting. Things like acrylic stamps to create the embossed designs, soap paint from shimmer powder to hand paint its detail, Lino/wood engravers, shapers, cutting dies and cookie cutters to make the embedded elements....Crafty tools are so repurposeable!
********************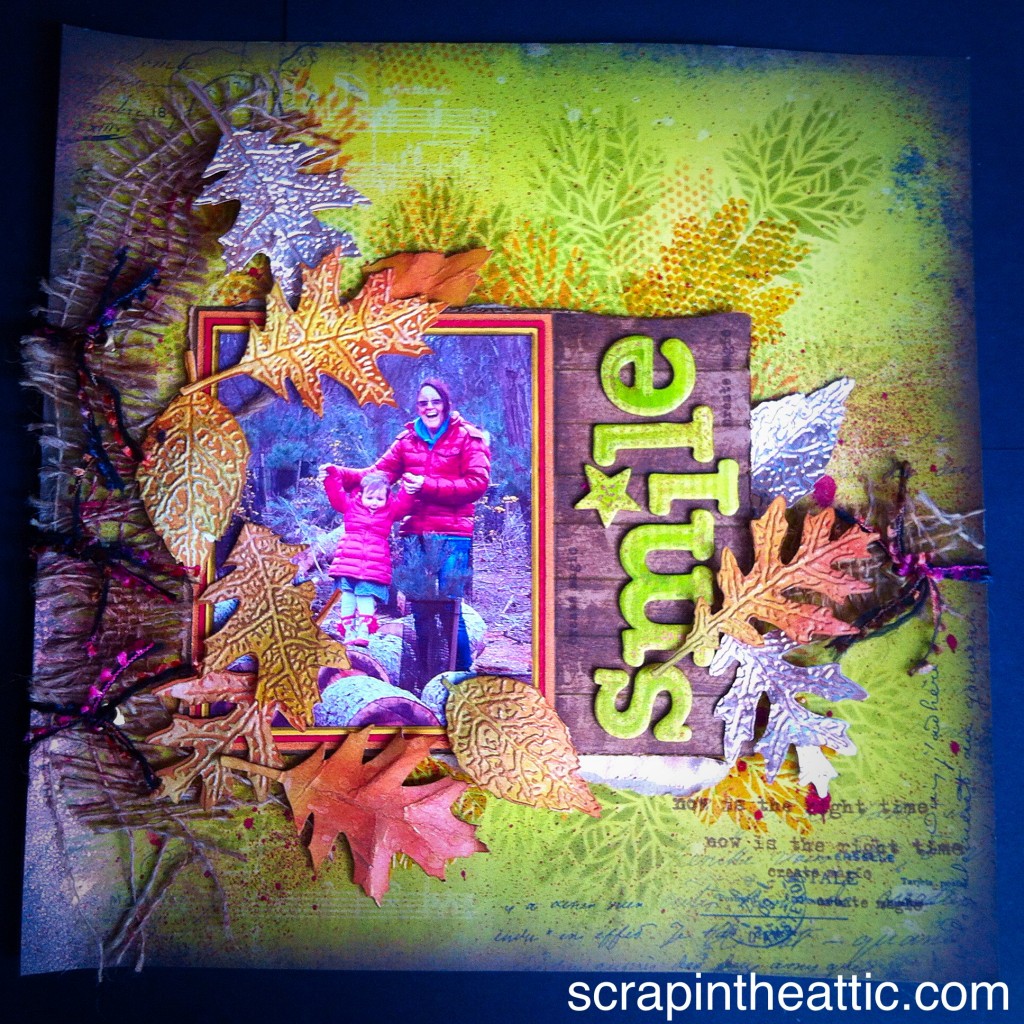 I am a huge fan of Autumn, a walk in the woods with my family admiring the colours of the leaves is something to look forward to before the dark days of Winter. One of my favourite dies is Tim's Tattered Leaves with the embossing folder. I added hints of gold for the sun on the leaves and hessian ribbon for the textures!
********************

Inspired by the leaves on the photo and grey, rainy autumn days I made a little card.
********************
I was inspired by the Autumn colours to make this little wall hanging, however, the gesso toned down the colours so they are probably more reminiscent of a misty Autumn day!
*****************************************************
Wow!! I don't think you can fail to be inspired by these gorgeous creations! For full details of how each designer made her project, just click on the name above the photographs and you will be taken to their blogs.
You really must play with us this month and give yourself a chance to win that fabulous prize. In addition, don't forget to pop back on the 4th September to see who the winners of our Mexico Moods challenge will be.
I really can't wait to see what you create for my challenge! Just remember to use the colours in the photograph at the top of the post for your inspiration and produce an autumnal style project.