Welcome to a new challenge at here at Our Creative Corner.....
Well, it isn't exactly new.... but before I go onto the challenge details

for March,

I just

wanted

to let

you know about

this months

Sponsor.
Artistic Outpost will be donating a $15.00 gift certificate to our randomly drawn winner to spend at their online sister-store Our Daily Bread Designs, where Artistic Outpost resides.
Definitely a prize worth winning!
**********************************************
And what do I want you to make this month?

I want you to take a trip down memory lane!

I would like you to re-visit a challenge that has been featured at OCC since June 2013
I have decided to shorten the list of challenges a little by leaving out seasonal challenges and some very recent ones - so please select a challenge from the list featured
here
.
Any entry that is not a challenge from this list will not be included in the Random.org prize draw and will not be selected as Winner or Top 3.
So make sure you select a challenge from this list!
Please state what challenge you chose
So click the link - reacquaint yourself with the rules of the challenge you want to do and have fun!
How easy is that!!!! ;o)
Laura
I revisited of November 2013 Steampunk Tic

Tac Toe
When I did it the first ti

me it

gave me a glimpse of the immense
possibilities that Steampunk had and that it could actually be so eas

y
I

t was

wonderful

to do it all over again (with a different line of course!)
Candice
Oh Boy! With tons of challenges to choose from I eventually settled on a liberal
interpretation of the August 2013
"Words, Words, Words"
challenge.
I thought it would be a fun idea to combine the theme of words
in books and those words setting your mind alight and alive with wonder.
I created this cute little card for it.
The background was stamped with whole lotta nice words too!


my project and had a wonderful time using loads of vintage colours and
elements to create this vintage hanging.
********************
Ana
….I thought it is perfect challenge to collect all those paper leftovers
lying on my desk and put it together in little packages…
I had a hard time choosing which challenge to re-visit! Eventually I went back to June 2014 and chose my challenge called 'Flaming June'. The simple reason was that I had this stencil and wanted to use it with some vibrant colours. The challenge stipulates the use of orange and anything else from the image that inspires you. - I produced this piece of wall art to inspire you
Lys
I was inspired by the August 2014 challenge
'Summertime'
.
In this grey winter I feel like dreaming of far away seas and adventures...


I love using song lyrics on my art... and this one by Taylor Swift is just perfect!
Jan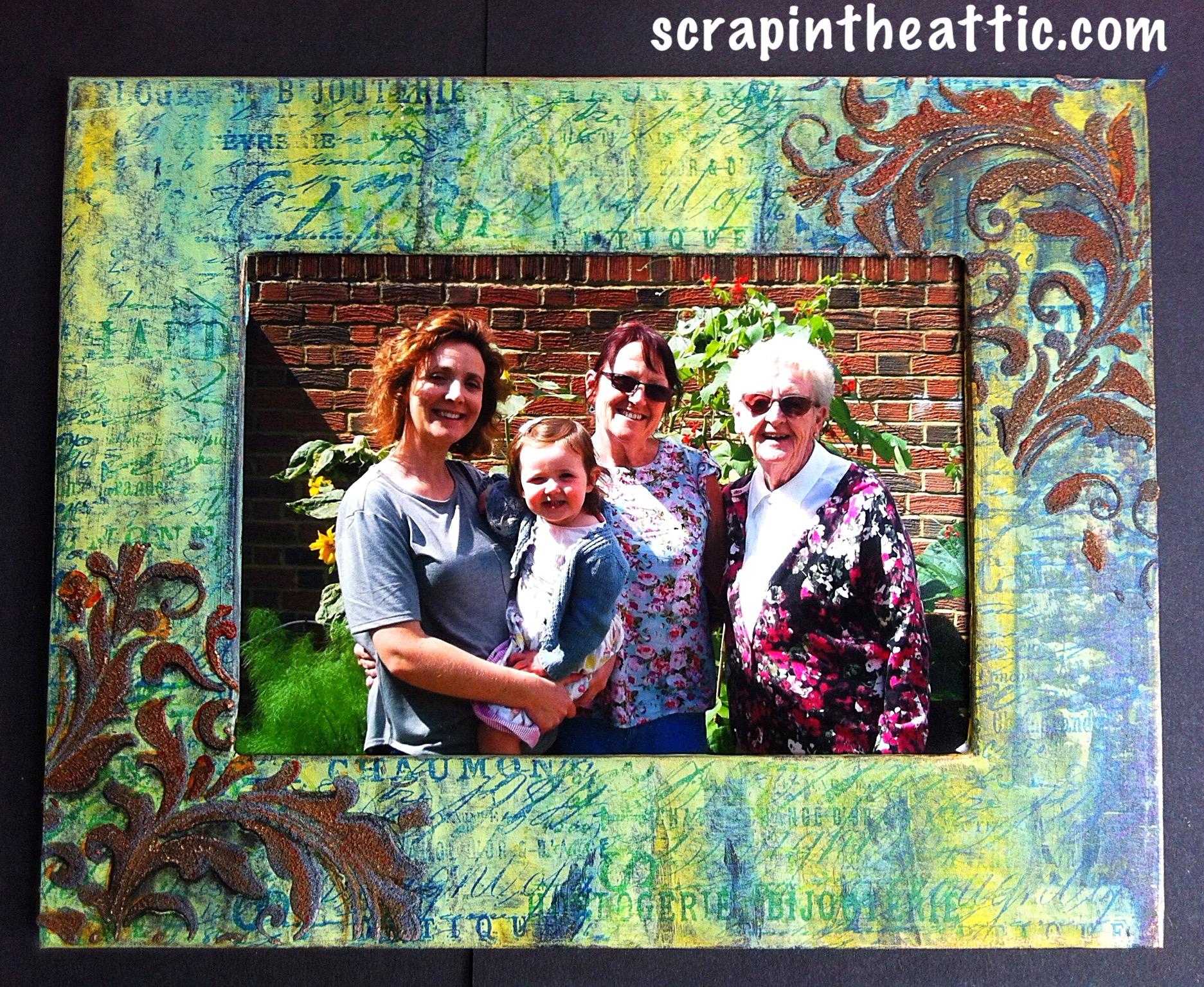 I was inspired by the October 2014 challenge
'Go Rustic'
.I chose to alter a simple cardboard frame from the Poundshop. The photo is our four generations, I took the colours for the frame from the garden and added the rust to simulate a wrought iron gate.



*******************************

WOW!! what an amazing variety of posts from the OCC team!!
With so many challenges to choose from the possibilities are endless this month!

Why not give it a go! You could be the winner of the $15 Artistic Outpost Voucher. You could be our winner and be here at OCC as our Top Talent! You could even be picked as our Top 3....

Dive into the challenges of the past and see what fun you could have!

Happy Crafting!

Laura
xxxx