Hi! Jennie here with you this month hosting my first challenge for Our Creative Corner.
I do hope you enjoy the challenge theme I have chosen for you, but before I introduce my challenge I would like to tell you about our Sponsor for this month
for one lucky winner this month!
All you have to do to win this gorgeous bundle of goodies is enter my challenge - and you could be the lucky winner selected by Random.org.
As you already know we are no longer selecting winners to be featured here as our Top Talent, but I will still be selecting my own winner and Top 3, so badges could be on their way to you!
Hit the Books
I adore old book paper and old books and I am always glad to be able to breath new life into a dilapidated book which most people would consider throwing out!
For your projects this month we would like to see you searching through your stash for old book paper or books and create a project with what you find.
You might want to use papers within your project or you might want to breath new life into an old book by altering it in some way.
I hope I have chosen a challenge theme with huge scope for projects small or large.
Whatever you make, let us see you give those old book papers or books centre stage!
Having saved a number of Penguin Paperbacks from going to the skip I decided to use some of the pages which were beautifully aged to "make" a book. It was great fun making and decorating the covers for the folded pages.
Ana
Old book papers are part of my creating all the time…probably you expected that I would make some kind of vintage collage….well, that would be too easy...I decided for mixed media journal page….layers of book sheets and paint have created beautiful textures....
I've used some vintage book papers on this card. There's lots of stencilling, stamping, stitching and some home made washi style tape using the book paper. I don't usually make cards but this was so much for Jennie's lovely challenge.
Lys
I chose an old Latin-French dictionary page, and played with my Brushos, inks, stamps and stencils, scraps of papers... to give it a new life.

I have chosen to create jewellery again! This time, an Autumnal necklace made from twisted wire, using book pages as the base for my jewel toned 'leaves' :)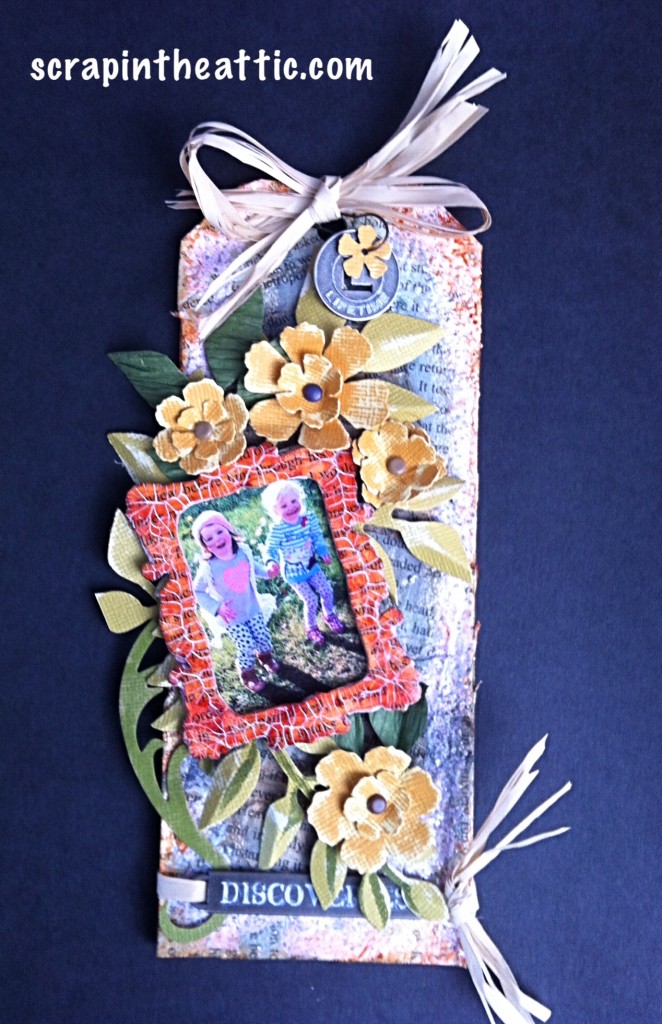 I love this picture of my Granddaughter in the Spring daffodils with her friend.
I used an old book of Fairy Stories to cover the chipboard tag and the tiny frame.
I was so pleased when Jennie announced her challenge bec

au

se
I had a gorgeous

book that I had been wanting to

cut to bits and
transform into something els

e

. It was so much fun to make!

With the coming of Memorial Day and all the Election Year hype...
Hope, the Patriotic Puppy is enjoyed wearing a news print Uncle Sam hat!
Today, his head "hit the books"... he was almost asleep when I snapped this pic!
I wanted to update the boring soap and hand cream dispensers in my bathroom. Instead of buying expensive bottles from a homestore, I modpodged book paper over cheapie plastic dispensers, used some Tim Holtz letters in an old typewriter-esque font and added some ribbon and embellishments. And voila- it matches the theme I have going in the bathroom better than anything I could have bought.
~~~~~~~~~~~~~~~~~~~~~~~~~~~

Well you can't but be inspired by the inspirational talent and projects this wonderful Design Team have come up with this month (as they do every month!) and I do hope it spurs you on to hit your books and join us in our challenge.