Hi there and welcome to another fun weekly challenge here at Our Creative Corner! Thank you to everyone who participated in last week's 'Foil and Alcohol Inks' challenge. So many wonderful entries were shared. Please stop by on Wednesday, to see who will take home the Top Talent Award for that challenge.
I'm Irena Kowalczyk aka Rudlis from "Love, life and crafts" and I am really excited to be your hostess this week. My challenge
"
ABC
" as:
"A" for Angel,
"B" for button(s),
"C" for chipboard.
Use in your project, these three things and show where they are.
I hope

you'll join

the fun

.
However, please keep in mind: total number of Challenges you are allowed to enter is:
FOUR, including ours!
Here are samples from our design team for your inspiration.
Angel Mother, Clay Heart Button, Chipboard Base
Angel image, Buttons, Chipboard Stars.
Angel stamp, Buttons, and Chipboard snowflake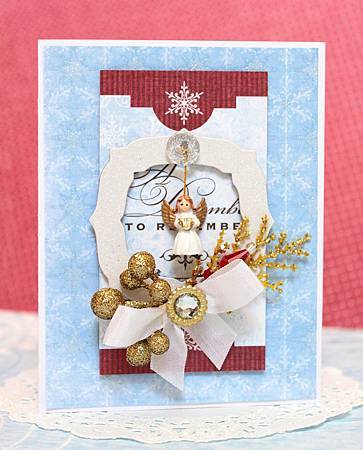 Paula McClane - Scrap Addict's Attic